I told you I planned to write a bit about Wishing Willow. I'd like to consider myself a woman of integrity ;), so here ya go.
I have to be honest and admit that I only discovered Wishing-Willow through giveaways, but by no means does that mean giveaways are the only draw to this site. Wishing-Willow is full of wonderful product reviews, and the companies that are chosen to be displayed speak to the great taste this blogmistress, a.k.a. Tara, has. Just look down the left column of her site, and see for yourself the great companies, it is like a collage of great creativity. And, Tara isn't missing her own unique eloquent style, as she manifests her dream, stated on her "About" page:
"My goal in creating this blog is to provide for all of you a forum where products that are truly special can be featured, reviewed, and shared with a community that remembers what it was like to make wishes…and the magic of finding out that some wishes come true..."
She said it better than I could, and I have to emphatically agree that Tara is achieving her goals. And for special products and companies? There are plenty, and I would not hesitate to call any of them by that name. Let me share with you one of my favorites.
Nanny Deprived
is the first button you see, and if the buttons were placed in order of importance, I might just believe this one is in the right place. It's ingenious, if you ask me. But what if you weren't asking me. The uber-honest and creatively sarcastic Amanda is the webmistress behind this innovative
blog
and
store
bearing the same name. At
Nanny Deprived
(the store), you can find hilariously useful products like "Mommy Spit" and "Bad Ass Bootie Balm (er, diaper rash cream), and the chuckles will continue when you scroll on over to the
blog.
If you want to know how to be the best toddler you can be or you haven't yet been enlightened to the definition of "flabdominals" I suggest you hurry your little butt up and go visit Amanda.

And if you need any more convincing of the treasures that reside at Wishing Willow, how about a little inspiration?
Just take a look at Tara's poetry written on the right sidebar.
Or

check out some of her featured artists

:
naokos stoop
,
lineanongrata
, Gumball Grenade Illustrations, and loveallaround

and talented jewelry designers

:
The Baker's Wife
,
Jesse McCann
, and
Helene's Dreams
(**please note** this is just a taste of her extensive list)
If you have made it all the way through this review, checking at least some of the links I shared, I'm sure I needn't say anything more. I'm sure you're hooked too! So, let me share with you another giveaway website that I have quickly come to love because, like Wishing Willow, it contains far more than links to good giveaways (though it does that very, very well...)
---------------------------------------------------------------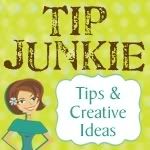 I have to say I love
Tip Junkie's giveaway format
! I'm not surprised because I am already a die hard fan of
her site
. I mean, "Tip Junkie"--brilliant! What I so appreciated about the giveaways is that only one, only one offered extra entries, and it was only one for putting a button on your blog, thus reducing the obnoxiousness of fluffy, chit-chatty extra posts! Since I wrote the last post, I've been so turned off by my ability to be so greedy and indulgent that
I feel so guilty if I enter with more than one comment. So, thank you, Tip Junkie, for solving this problem and relieving my burden ;)
Another brownie point for Tip Junkie: not only are there like a
bazillion
(if bazillion is approximately equivalent to 20 or so) different giveaways, they are very varied (do you enjoy my alliteration?--sorry, too much
Mountain Dew
makes me a little punchy). There are prizes from blog makeovers to real makeup, car seats to cakes

(
oh my goodness, Gerber Mama, I'm coming to you next, that Clineff's Confections cake looks
delish
).
Take a look at just

some

of the great giveaways going on now (did you notice Wishing Willow's Laila Rowe bag in the picture too? Yep, she's one of the listings):
Make sure you don't just visit Tip Junkie for the giveaways. If you do, you will miss out on all the other wonderful resources this blog has to offer. Some of the highlights:
Top Tips
,
Submit a Tip
(makes me wonder if I even have any ;), and my other favorite,
Shop!